---
quotations and ideas
Updated on March 21, 2017

Quotations, ideas, theory maps …
Self-efficacy; (academic) agency; academic confidence:
'People who judge themselves unfavorably are not inclined to treat themselves positively'  

– Bandura, 1991, p274
'Self-efficacy beliefs are context specific evaluations of capability'

– Bandura, 1995
'If people believe they have no power to produce results, they will not attempt to make them happen'

– Bandura, 1997a
'In their everyday lives, people repeatedly confront predicaments in which they forego expediency and material benefit for self-respect'

– Bandura, 1997a
'Personal agency operates in a broad network / [framework] of socio-structural influences'

– Bandura, 1997a, p6

=> academic agency operates in a broad network/framework of socio-academic structural influences
AGENCY refers to acts done intentionally:

… 'the power to originate actions for given purposes is the key feature of agency'
& … 'beliefs of personal efficacy constitute the key factor of human agency'

– Bandura, 1997a, p3
' A low sense of efficacy fosters dependence on proxy control … further reducing opportunities to build skills needed for efficacious results'

– Bandura, 1997a, p17
'Situations that produce illusory incompetence diminish perceived self-efficacy'

– Bandura, 1997a, p18

for example: being asked to 'perform' in the company of those perceived to be superior at the task / in the domain
'Students' improvement in perceived efficacy and self-regulation cannot be implemented unless there is greater flexibility in the curriculum'  

– Bandura, 1997b

'flexibility' = in the processes of learning? in subject content? in curriculum delivery?
'Beliefs about whether one can produce actions (which is perceived self-efficacy) ≠ beliefs about whether actions affect outcomes (which is locus of control)'

– Bandura, 1997b, p20

/li>
'Educators should focus on fostering a sense of personal efficacy rather than providing palliatives for scholastic anxiety'

– Bandura, 1997b
'Academic support is a mediator of academic agency and can just as much negatively, as positively impact on it'
HIGH SELF-EFFICACY + POOR EFFORT  =  FAILURE

– Bandura, 1997b
LOW SELF-EFFICACY + POOR ABILITY  =  FAILURE

– Bandura, 1997b
'Self-efficacy accounted for 14% of the variance in students' academic performance across a wide variety of student samples'

– Bandura, 1997b
'Self-appraisal of efficacy is strongly influenced by social comparisons'

– Bandura, 1997b

 – which implies that the social stigma associated with disability labels negatively impacts on self-efficacy beliefs because learning differences are perceived negatively in peer comparison contexts.
'Evidence suggests that students' performance in academically threatening situations depends more on efficacy beliefs than on anxiety arousal; and that a low sense of efficacy arouses anxiety rather than the other way around'
'Academic confidence is a mediating variable that acts between individuals' inherent abilities, their learning styles, and opportunities afforded by the academic environment of higher education'

– Sander & Sanders, 2003, p4
Central to Bandura's social cognitive theory is the idea of the Triadic Reciprocal Model of Causation:

Earlier theories explained behaviour (B) as being caused unidirectionally by either environmental factors (E) or internal disposition (P) or some combination of these:  B = f(P,E);
Empirical evidence subsequently collected, encouraged a modification of this principle to include an element of interactional bidirectionality of influence:  B = f(P ⇄ E);
In the triadic reciprocal model, human agency operates within the causal structure of the three components of Behaviour, Environmental Factors and Internal Personal Factor operate as interacting determinant that influence one another bidirectionally (right) [my interpretation and using the academy as the focus]
Reciprocity is indicative only and does not imply equal strength of interacting determinants as these can vary according to the tasks, activities, circumstances;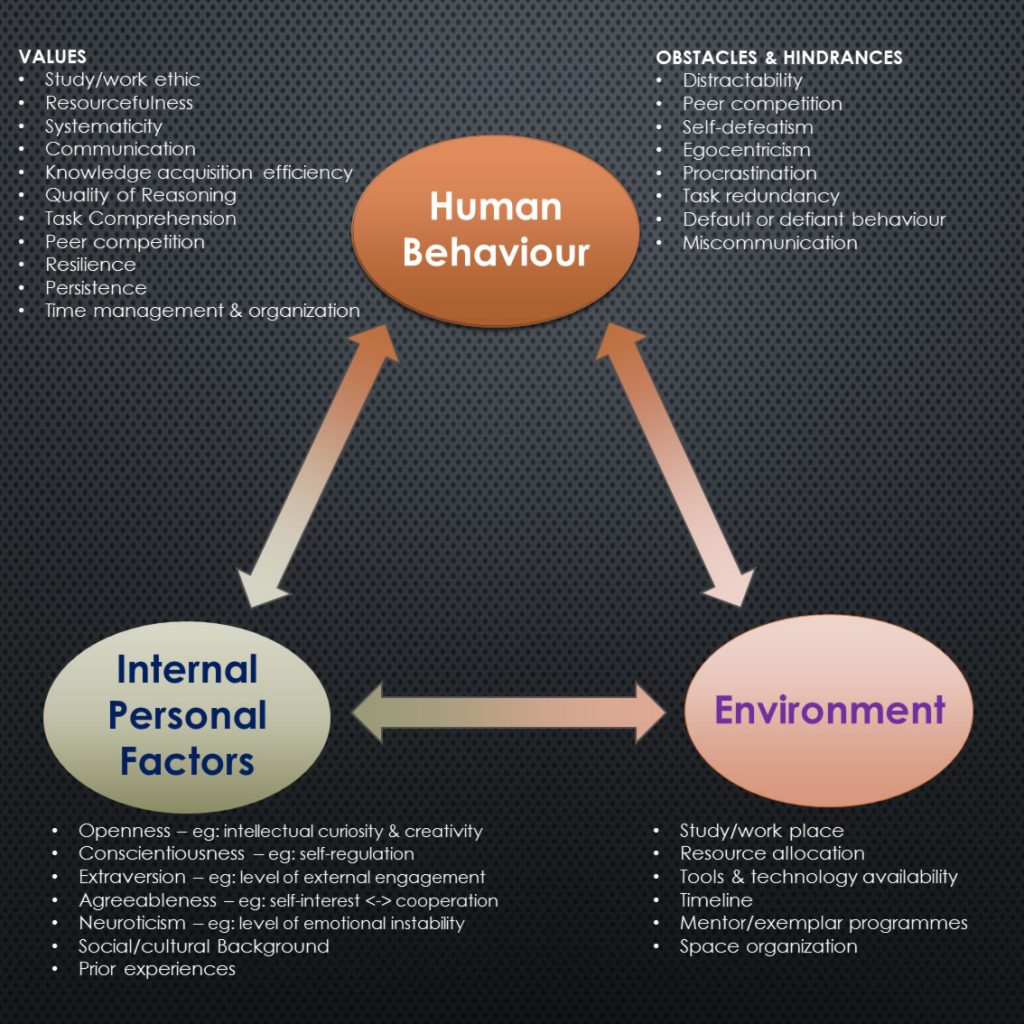 In the model (above) of triadic reciprocal causation:

'the cognitive & personal factors determinant is INDEXED by self-beliefs of efficacy, personal goal-setting and analytic thinking …
the managerial choices that are actually executed constitute the behavioural component …
the properties of the organization environment, the level of challenges prescribed and responsiveness to managerial interventions represent the environmental determinant'

– Bandura, 1991, p267
'PERFORMANCE is an accomplishment, an OUTCOME is something that follows from it'

– Bandura, 1997a, p22

[graphic below attempts to show the interrelationships of factors and influences on self-efficacy beliefs and where CONFIDENCE features in this pattern. It is my analysis that places 'confidence' in the position as an AGENT which is through my understanding of Bandura's Social Cognitive Theory and the place of self-efficacy beliefs within it. Viewing this diagram from an 'academic' perspective is the important standpoint for this research project].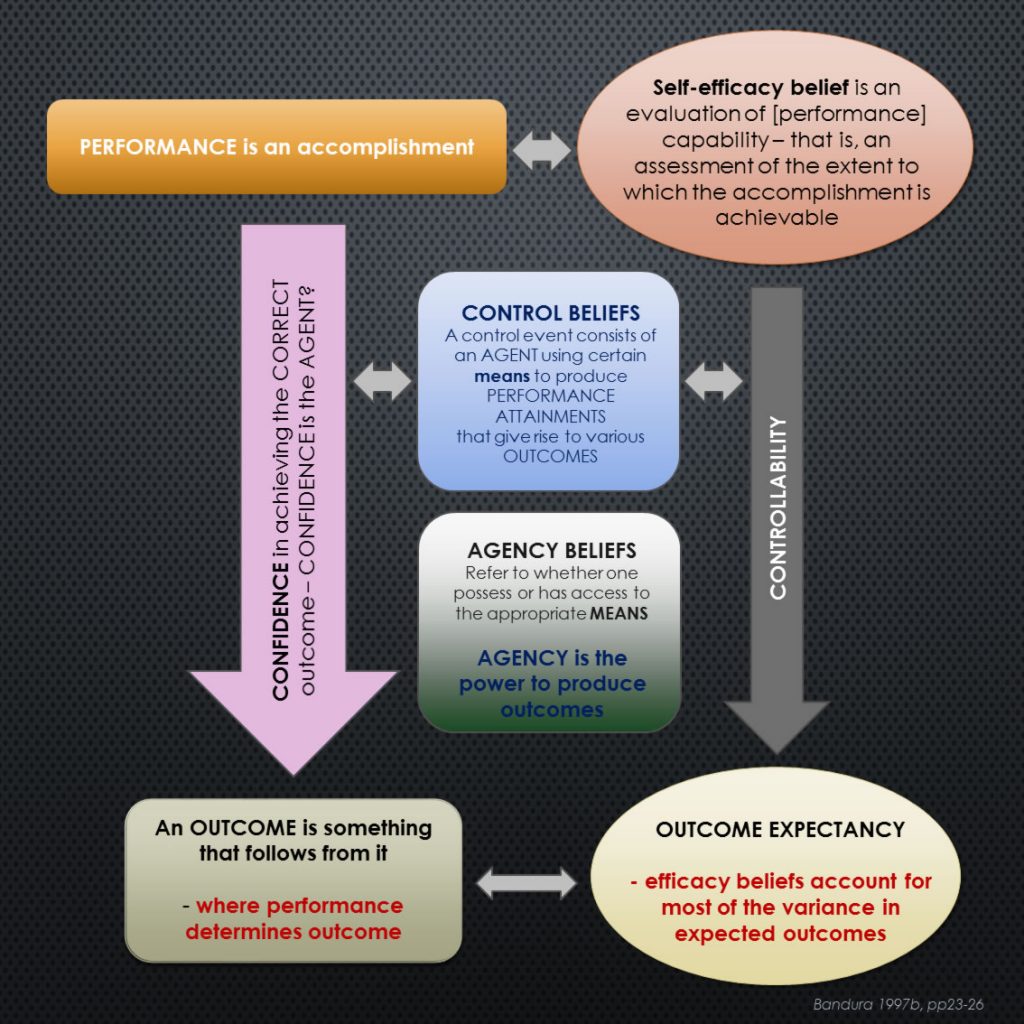 'Where performance determines outcome, efficacy beliefs account for most of the VARIANCE in expected outcomes'

– Bandura, 1997a, p24
'Where differences in EFFICACY are CONTROLLED, the outcomes expected for given performance make little or no independent contribution to prediction of behaviour'

– Bandura, 1997a, p24
'The combined influence of goals with performance feedback heightens motivation substantially'

– Bandura, 1991, p261
'Minimizing one's successes while accenting one's failures can give rise to despondency'

– Bandura, 1991, p274
Dyslexia:
'Dyslexia is not a socially-neutral label: its meaning is bound to political, educational and social contexts, and to individual experiences'

– Cameron & Billington, 2015, p3
REFERENCES
Bandura, A., 1991, Social cognitive theory of self-regulation, Organizational Behavior and Human Decision Processes, 50, 248-287.
Bandura, A., 1995, Exercise of personal and collective efficacy in changing societies, IN: Bandura, A., (Ed), Self-efficacy in changing societies, Cambridge, Cambridge University Press.
Bandura, A., 1997a, Self-efficacy: the exercise of control, New York, W.H.Freeman & Co.
Bandura, A., 1997b, Self-efficacy in changing societies, Cambridge, Cambridge University Press.
Cameron, H., Billington, T., 2015, 'Just deal with it': neoliberalism in dyslexic students' talk about dyslexia and learning, Studies in Higher Education, 40, 1-15.,
Sander, P., Sanders, L., 2003, Measuring confidence in academic study, Electronic Journal of Research in Educational Psychology and Psychpedagogy, 1(1), 1-17.
---